Creativity & Gifted Education
Believing many students are talented in some areas, we seek to realize their potential and creativity. To install quality education, our school promotes effective learning practices in the classroom through the introduction of the Enrichment Course. Besides spotting high-end students by observing their performance, we will also help to identify and assess the hidden talents of the students. We will offer them pull-out programs inside school, hire coaches or tutors, and subsidize them to take courses run by tertiary institutions. Apart from academic training, we also provide support to students with talents and skills in music, performing arts, sports and other areas.
Arrangement of the Gifted Education (School Teams)
The Gifted Education in our school is planned in accordance with the Three-tier Implementation Model articulated by the EDB.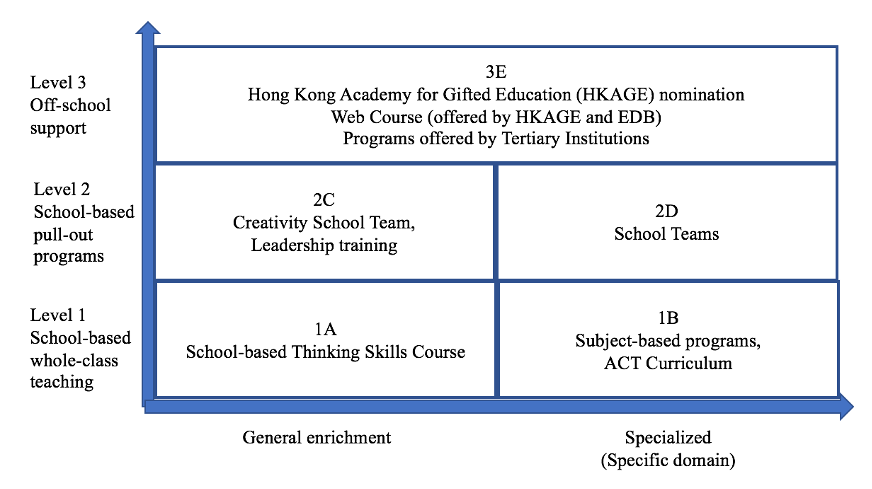 Various school teams are provided for our students.

The updated information of the school teams will be uploaded to the school homepage by the end of August every year.

Students can join the school teams of their own choices in mid-September every year. The selection of school teams will also be carried out at the same time. 
Star Program
Our school has launched the "Star Program" in 2017 in order to provide more systematic nurture to gifted students with high potentials in our school.

Students can be nominated by teachers and parents in the following domains:
Chinese Language, English Language, Mathematics, Science, Humanities, Computer & Technology and Leadership

Members in the Star Program will have priority in being nominated and receiving subsidy from the school for Level 3 Gifted Education Programs. Members will also have the priority in being selected to participate in gifted education-related exchange programs.

Major Level 3 Gifted Education Programs: (for reference, information will be released via parents' letters and on school website when confirmed)
| | | |
| --- | --- | --- |
| Program | Organizer | Application period  |
| Dual Program | The University of Science and Technology | Late September |
| Program for the Gifted and Talented | The Chinese University of Hong Kong | October and April |
| Nomination for membership | The Hong Kong Academy for Gifted Education (HKAGE) | January and May |
| Online Web Course | HKAGE and EDB | October |
The following chart summarizes the details of the Gifted Education (School Teams).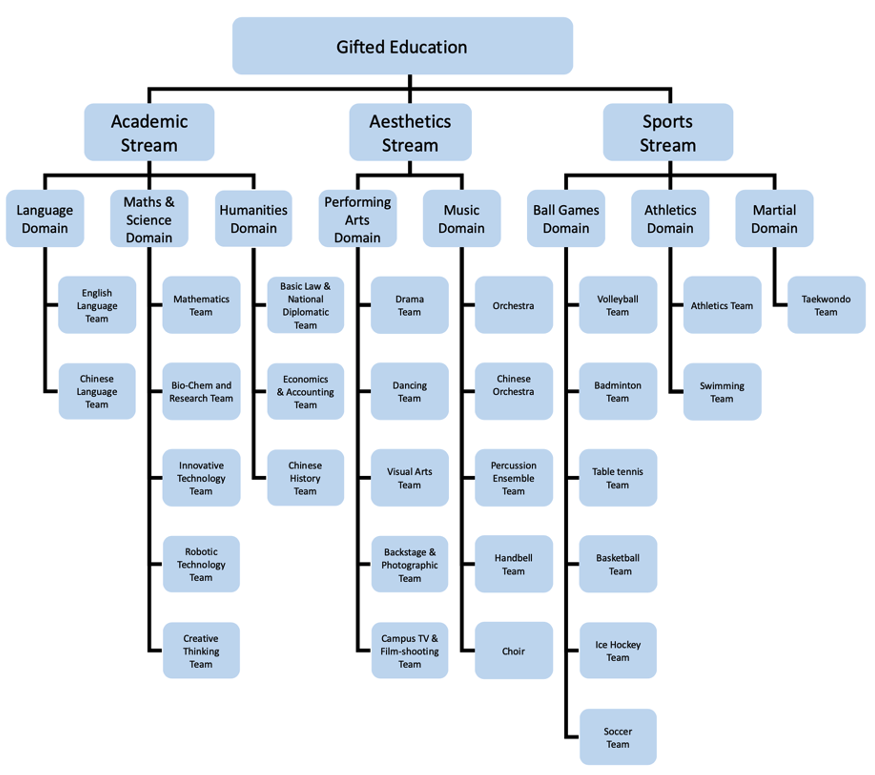 Arrangement of the Creativity Development Program
Creativity and imagination development is essential in school education. We want our students to be well-equipped for the ever-changing world and to always maintain a unique mind in the face of copious challenges ahead.
Aims:
Promote the value of creative activities and good quality leisure opportunities

Increase students' selfesteem, confidence and creativity

Equip students in employing the six steps in the creative process

Equip students to use creativity to generate ideas and do problemsolving
Flow of Recruitment: